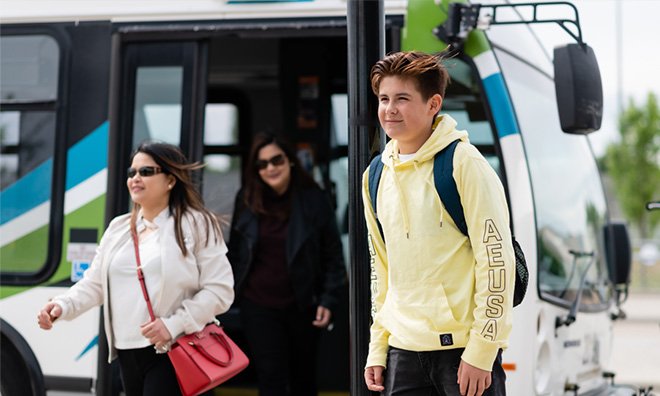 Accessibility tips for Transit
Join Declan and Madison as they take transit users on a quick trip through what transit has to offer to make Strathcona County Transit more accessible for everyone in our community!  Visit Riding with us to watch their short video.
 
Last modified: March 15, 2023, 2:59 p.m.
Take Part; Take Transit! Join over 1.5 million riders (annually) who let our professional operators take them where they need to go. We have the province's first fleet of double-decker buses, along with local, local on-demand service (starting June 26, 2022), and commuter service into Edmonton and an accessible transit (Mobility Bus) service. We're happy to have you along for the ride!
Transit Link at 780-464-RIDE (7433)
Email: transit@strathcona.ca
Ask it, report it or suggest it using County Connect
Customer service hours:
Monday to Friday: 7 a.m. to 7 p.m.
Saturday: 8 a.m. to 12:15 p.m. and 1:15 p.m. to 4:30 p.m.
Need a taxi? Accessible taxi? Limo? Shuttle? Find out how we make sure your vehicle for hire experience is safe for you and your driver.
County Connect
Ask a question, provide feedback or report an issue.